Where the koi swim in groups under the drain
---
JAPAN Water in the city of Shimabara is so clean and clear that sewers, hundreds of koi fish swim and live.
Shimabara is a city famous for its clean water on Kyushu island. In the drainage ditch along the road, the water quality is so good that it becomes a habitat for koi fish - a species that exists only in places with pure water.

This is also a point to help Shimabara attract more tourists. When you come here, you can comfortably watch the school of fish swimming in ponds, sewers ...
Other than Shimabara, only towns like Hida Furukawa, Gujo Hachiman and Tsuwano share the same image. Photo: Od
In addition to Shimabara, towns like Hida Furukawa, Gujo Hachiman and Tsuwano also appear like this. Photo: Mahlervv / Odditycentral.
In 1792, the area around Shimabara was hit hard by the Unzen earthquake and tsunami, killing 15,000 people. At that time, no one could have imagined dozens of pure springs with geysers that would someday help the city appear on the national tourist map.

Fish considered to swim in the sewers. Video: Linh Chi.
There are at least 60 geysers around the city, through drains and drains. That makes clean water the most abundant resource here. Today, Shimabara is also known as the "City of Water", inspired by the quality of water.
In 1978, the city government decided to raise koi carp in canals, ponds and sewers. A length of sewer about 100 m became the home of several dozen fish. This made Shimabara quickly be concerned by public opinion.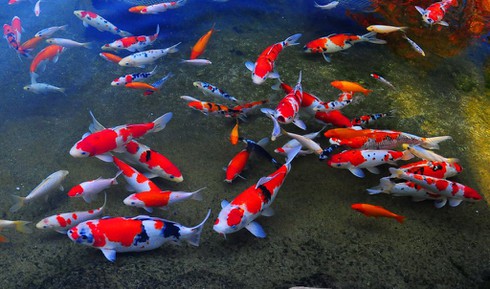 Guests can easily travel to Shimaraba's tourist attractions by bus. Photo: Japan travel.
Today, there are hundreds of fish considered swimming leisurely in the water and waiting for visitors. However, to protect the water, the authorities posted warning signs not to feed the fish. Locals are proud of their famous koi fish, and always try to maintain and protect the cleanest water as possible. For many visitors, this place deserves to be a "should visit at least once in a lifetime" destination.
At the foot of the once-erupting volcano Unzen, along southeastern Nagasaki Prefecture, you'll find the small city of Shimabara. It reminds visitors of an old world.
In addition to the koi fish, the city is also famous for a castle of the same name, built from the Edo period. This work was rebuilt in 1964 and is one of the attractions today.
The city has big festivals such as the Water Festival taking place in the first week of August. Nagasaki Prefecture also hosts other events such as the Sea Festival in Kuchinotsu, the cherry blossom festival in Minamishimabara.
There are many options for visitors to this city such as trains, cars, buses ...